Top 10 Best WordPress themes for free 2022. 10 themes that I think you're really going to like now many of these new WordPress theme companies are just introducing some real new innovating features that you've probably never seen before and here I'll give a brief overview of all the WordPress themes. I'll be judging these themes on a scale from one to ten on being the best, obviously, and I'm actually rating these themes based on the theme customization and the features, so what the theme can actually do not necessarily the templates or the plugins that it comes with. Now, these Top 10 WordPress themes are all unique in their own specific way. They all offer free starter templates so you can easily import your website with one click. They offer various customization features that can help you with specific website needs. They are well coded and held by the wordpress.org coding standards to make sure your site is optimized and runs great plus they all work with major page builders like Elementor, Divi, Gutenberg, and Brizzy. Keep in mind that while many of these themes are free, they all have a pro version.
Here is the list of Top 10 Best WordPress themes: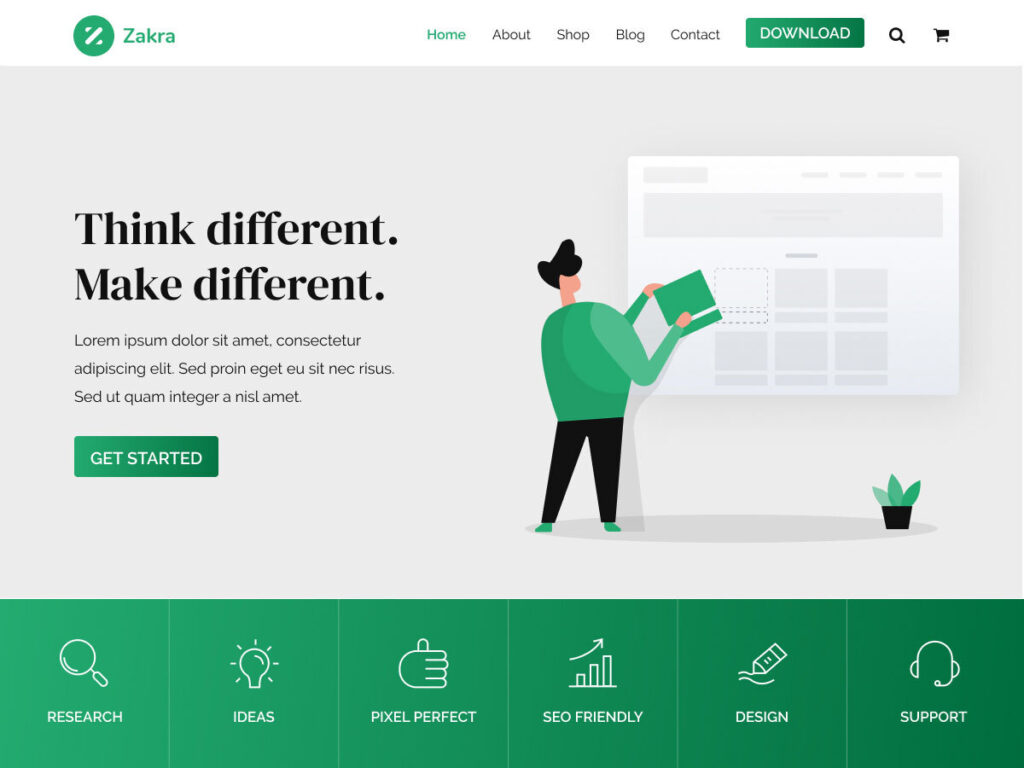 Zakra is a very standard WordPress theme that comes with just enough features to get your website up and running. It offers various container styles that you can customise for each specific page. Zakra offers some simple features like adding a secondary menu and some different styling options for your header. It also comes with some different layouts for Woocommerce and also for single products. Overall Zakra is a decent WordPress theme that can get the job done. The Zakra theme comes with 25 free starter templates for Elementor that you can quickly import with one click. Some of the starter templates even come with up to seven pages, which is really cool. The pro version offers some more control over the header and more layouts and also access to their entire library of templates, which are actually pretty nice.
Zita is one of the few WordPress themes that offers something really unique in the theme customizer. Zita offers seven different style headers with some options to add buttons or icons to your header. A cool feature is having the logo vertical, which gives it a really cool creative look. In the free version, you can also assign the transparent menu and have them on specific pages. Another cool feature of Zita is that you can use a preloader and you can also set an image for that specific preloader. You can adjust the page size and the width of each page with data, so it works with all major page builders It works great for Woocommerce and has various styling options for the product and for the shop pages as well. The Zita theme also comes with 25 free starter templates to use.
Oceanwp is an old school theme. They are actually the second most installed WordPress theme in the WordPress repository. The general options are packed with different page layouts, different container sizes, different styling options for page titles, scroll to top buttons, and also contact forms that you can customize. You can also have different page layouts for each specific page. Oceanwp options have a lot of customization style options, but they do lack a header and a footer builder, which is disappointing. figuring out how long they've been around you can still create a custom header with Oceanwp using the elements or page builder, but i think you can already do this with the Elementor pro version. Personally, I wish they would clean up a lot of the styling options because they're very scattered throughout the theme customizer and at times the options can be a bit overwhelming with all these customization options. OceanWP also offers some starter templates for Elementor and Gutenberg.
Phlox is probably one of the best designed WordPress themes on this list. It's clean, the options are really easy to understand, and the templates look great. What's unique about the Phlox theme is the design options You can choose from four different page animations, enable preloaders and put your logo as the pre-loaded image as well. There is also a progress bar that you can customise and change the colors. The Phlox theme is great for all page builders and offers different page layouts, different post layouts, and also some different layouts for your woocommerce products. the phlox theme offers around 25 free starter templates that just look fantastic and to be honest i think they probably have the best design templates on this entire list of wordpress themes. What's also new about Phlox that you get 40+ new elements on your website. While some of these elements feel a little useless, they definitely have some really cool and creative elements that you can add on your wordpress websites.
The Astra theme is the most installed WordPress theme in the WordPress repository. The Astra theme is best known for its amazing starter templates. The Astra theme comes with 100 free starter templates and also more than 250 starter templates in its pro version. You can change the page layout for each page and have different styling options for transparent menus on each page. Personally, Astra doesn't offer a lot of features compared to a lot of the other WordPress themes on the list. However, the Astra theme is currently unveiling their new header and footer builder in just a few weeks, so you will have a lot more control over the header and footer very soon. Most people use the Astra theme for the starter templates. These guys have done a superb job of making each layout look great and come with various pages. Astro probably offers the most and they look great, while the Astra theme doesn't offer as many features as other themes. It's a very reputable theme that is also very lightweight and carries a good reputation.
The Deep theme is one of the newer themes to hit the market this year. The deep theme starts out with a setup wizard where you can import six really nice starter websites. Deep, unlike the other header and footer builders, has the most advanced header and footer system i have ever seen and it looks great. You can style each specific element with tonnes of customization features. You can also customise the header for each specific device and also have a custom header for your sticky menu. The Deep theme comes with a few pre-designed headers to make things easier and it also has a horizontal header builder, but i did have some trouble with it and it didn't work for me, but since it's a newer theme, just give them a month or two to fix out the bugs. Besides that, the customizer options are really nice. The deep theme offers preloaders, scroll to top options, white labelling and other really nice features that you would usually need to plug in for, like smooth scrolling. The deep theme allows you to have full page and container layouts, plus what's also nice is that you can customise each of the page sizes for the blog and also for the mobile devices.
If you plan on using Gutenberg, this is the theme for you. The Cosmos WP Theme is the newest yet powerful new wordpress theme for Gutenberg I've ever come across. Cosmos wp offers a custom header and footer builder that works great. You can drag elements into the header and fully design them with ease, plus there are some additional options for the menu like different style borders and box options for your menu. You can use this theme for all major page builders and it is really quite simple to use. Cosmos wp gives you tonnes of customization options over the header elements and footer elements and also offers some neat features like scroll to top and tonnes of styling options for your website. With the cosmo wp theme, you'll have access to a variety of beautiful demo blocks and pre-made websites for Gutenberg and it also has some templates for woocommerce stores as well. It also comes with their specialty plugin called gutener, which also gives you access to their library of blocks, templates, and complete websites that are all for free. You can use this theme with Elementor and Brizzy, but i think it's more suitable for those who solely plan on using Gutenberg. It's a real hidden gem. I found it's a newer theme and it's really underrated, so if you are using Gutenberg, I think this is a great pick for your wordpress websites.
The Suki theme comes with a header and footer builder like other various WordPress themes. What was unique about Suki is that you can actually customize the size of each specific element in the header, which i thought was pretty clever, plus you can build different headers for various devices. Suki probably allows the most customization options for the header i've ever seen in a WordPress theme. The only drawback is that if you want to change the colors or have a transparent menu, you'll need to upgrade to the pro version, but that's not necessarily a bad thing. The pro version of Suki adds a lot, and I think it's worth your time. You will get unlimited elements for the menu, a unique Woo Commerce search ajax element, a mega menu builder, and a beautiful preload builder. The Suki pro version also comes with various blog options and custom hooks, so you can insert content anywhere you want within your WordPress websites. Suki also has dynamic page setting options for the 404 post page and the post archive pages all in the free version. Suki offers starter templates for Elementor and Brizzy that are nicely designed and look good, and they also have starter templates for e-commerce websites as well. In fact, the pro version of Suki does offer some really nice features for woo commerce it offers different product layouts, woo commerce optimization, and also an off canvas menu for your shop page, which I thought looked really cool I do believe Suki is one of the free themes that is actually worth upgrading to the pro version. Again, Suki is one of the newer upcoming themes for 2022 and it's just very underrated, so be sure to check this theme out.
The Neve theme is another great overall WordPress theme. The free version comes with a hundred free starter templates and a header and footer builder. The header and footer builder is pretty standard and work great. You can add elements in the menu and drag them around. You can also shrink them and add more elements within a section, which is really cool. Plus, they give you some starter templates to help get you inspiration for your header. The pro version of Neve is even better, as it gives you access to the header theme builder, which allows you to have a different header and footer for each specific page which is really cool. Neve also comes with 100 free starter templates in total that work with Gutenberg, Elementor brizzy and there are also 10 starter templates for Divi and thrive in the pro version. The Neve theme is also very lightweight, it boasts you can score a one hundred percent on tt metrics and google page speed insights which i thought was quite impressive. The Neve theme is probably one of the most stable WordPress themes on this list. The Neve theme is probably one of the best themes for e-commerce in the free version. You can change pretty much everything and they have tons of styling options.
The Bloxy theme is the most underrated WordPress theme i've come across. The Bloxy theme offers the most features for free themes on this entire list. first the theme customizer looks great. It categorizes each section to make things easier, plus it offers a light scheme and a dark scheme. The header and footer options are incredible. Bloxy offers an amazing built-in theme builder. Basically, you can have a custom header and footer for each specific page. You can have a transparent menu and design it for each specific page, which a lot of themes don't offer. You can design your own sticky menu that you can fully customize while it's in its sticky state for each specific page as well. You can also add a really cool canvas menu and drag and drop elements that you can fully customize. The header options for BLoxy are quite impressive, and you do get a lot in the free version. Bloxy also works great for blogs. You can pick from five different layouts You can customize each element, like changing the size of the featured image, changing the size of the heading tag for the title, plus you can hide specific elements like content, read more excerpt, featured image, and even the title, although i'm not sure why you'd want to do that, plus it comes with an option to have a sticky sidebar.
This is the list of the top 10 best free WordPress themes for 2022. I was very surprised when using these themes that i didn't really explore all the WordPress themes, but these themes are actually really good and they have great features, so be sure to check them out and, as always, if you have any experience with these themes, leave me a comment below.